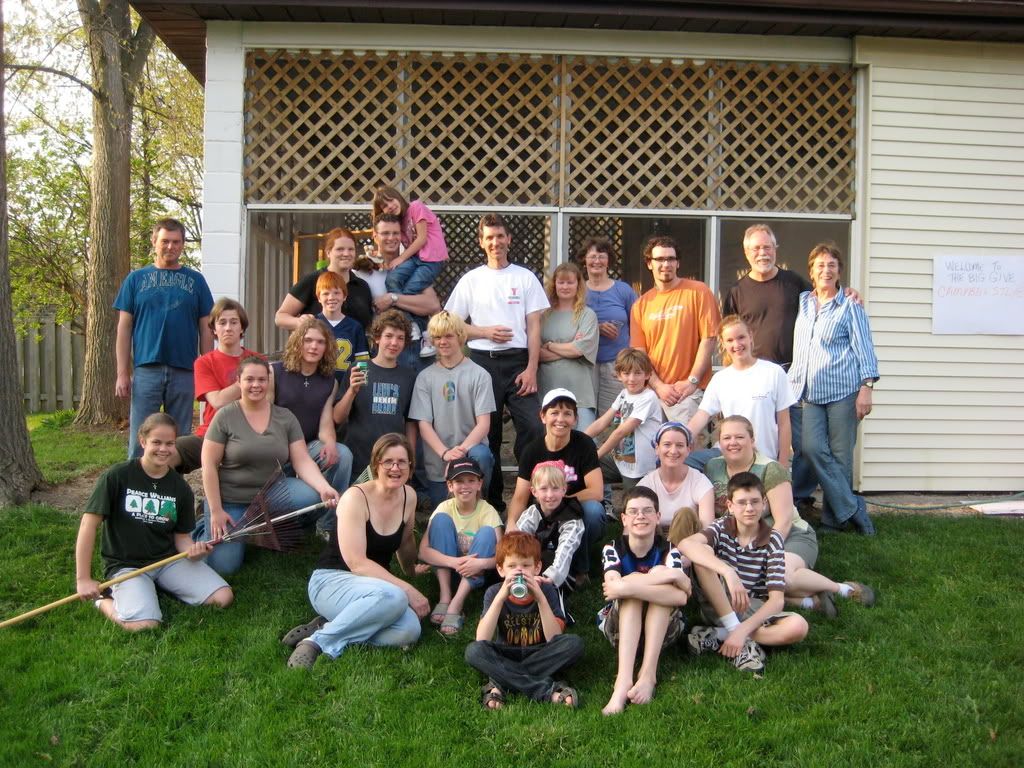 I met a woman in theatre group this year who truly blew us away with her generosity. She organized a work bee at our home on Friday and around 30 people came by in total. Here is a shot of those who were able to do the dirty work. I am still amazed.
As if that weren't touching enough, she also wrote and submitted this article to our town paper ...
Papua New Guinea is literally half a world away and in mid-July that is where a local family is moving for two years. The Neal Campbell family are selling their house, car, and most of their possessions to move to the tropical island of West New Britain, north of Australia. With its exquisite coral reefs and lovely beaches this might not sound like much of a hardship but Neal and Kristina Campbell and their sons, Jonam and Evan are expecting 36 c temperatures with no air conditioning and their arms hurt with the inoculations they are now going through in preparation. The Campbells will be traveling as Associate Missionaries with New Tribes Missions (NTM).
Last Friday night the community came together to lend support to the Campbell family's dream and help them prepare. Sporting rakes, ladders and brooms the event was attended by about 30 neighbours, friends and some who didn't even know the family. Everyone commented on how much fun it was and how much they all missed this type of community spirit. The Big Give- Campbell Yard Work Party was spearheaded by Evelyn Ward de Roo, Professional Organizer/ Interior Redesigner as part of National Organizing Week (NOW). NOW is a project to give back to the community by the Professional Organizers of Canada, http://www.organizersincanada.ca/noweek/index.php. Annually they choose a charity with which to volunteer. Choosing the Campbell family as her charity, last weekend she organized this old fashioned 'many-hands-make-light-work" event at their east end home, the historic Old Fire Hall, on main street.
The Campbell's adventure of a lifetime was sparked by hearing a talk they attended at their church, Temple Baptist, in Sarnia. For sometime, Neal and Kristina have been itching to step out of their comfort zone and share their lives with others in need. A hard oiler, Neal works for Henderson Builders Limited and is currently the construction project manager for the new addition at St Philip's Catholic Church. He will be doing support maintenance. A graduate of UWO, Kristina is a home-schooling mother and curriculum writer. She will be teaching at Malango School which has been educating missionary children since 1988. Their boys and children from many nationalities, including local children, will attend the school. The school is part of a missionary compound which supports expatriates working in remote jungle villages. Jonam (13) says "God has given us an amazing opportunity."
In order to qualify for this opportunity, they must raise their own support needed for the two year contract. In preparation their home-schooling lately has been to study Pigin English and the culture of their soon to be adopted country. And they have been experimenting with some native recipes. Because the compound where they will be living is only accessible by a small airstrip, their belongings are being pared down to the basic necessities. On the weekend they participated in the town-wide garage sale, selling off a lot of their things, including a toboggan. "One thing I am sure going to miss is the snow, but I think it is going to be fun, " says eleven year old Evan.
Ward de Roo met the Campbell's through Petrolia Community Theatre's (PCT) recent play, Peril at Petrolia. "I was immediately impressed by Kristina's talent, personal integrity and dedication. The decision to move to Papua New Guniea transpired while we were rehearsing over 2 months. I witnessed them processing this huge life transition with great trust and excitement. I was moved to help them in some small way", says Ward de Roo. The entire Campbell family has been involved with the PCT since moving back to Petrolia. And recently Jonam starred as the White Rabbit in the VPP's Young Company production of Alice in Oil Town. The Campbell's were featured artists on the Lambton County Studio Tour. They are active in Lambton County home schooling association, where Kristina has served as a director for the local home-school co-op. Kristina's ebooks are published through theoldschoolhousestore.com. The family's adventure can be tracked on their Facebook group, "The Campbell Family is going to Papua New Guinea" http://www.facebook.com/group.php?gid107239922
Since 1942 NTM has been mobilizing missionaries help establish indigenous churches among remote peoples in 18 countries, through the translating of the Christian Scriptures. Any one desiring to support the Campbell's may contact: New Tribes Mission of Canada, PO Box 707 Durham, ON, N0G 1R0
www.ntm.org